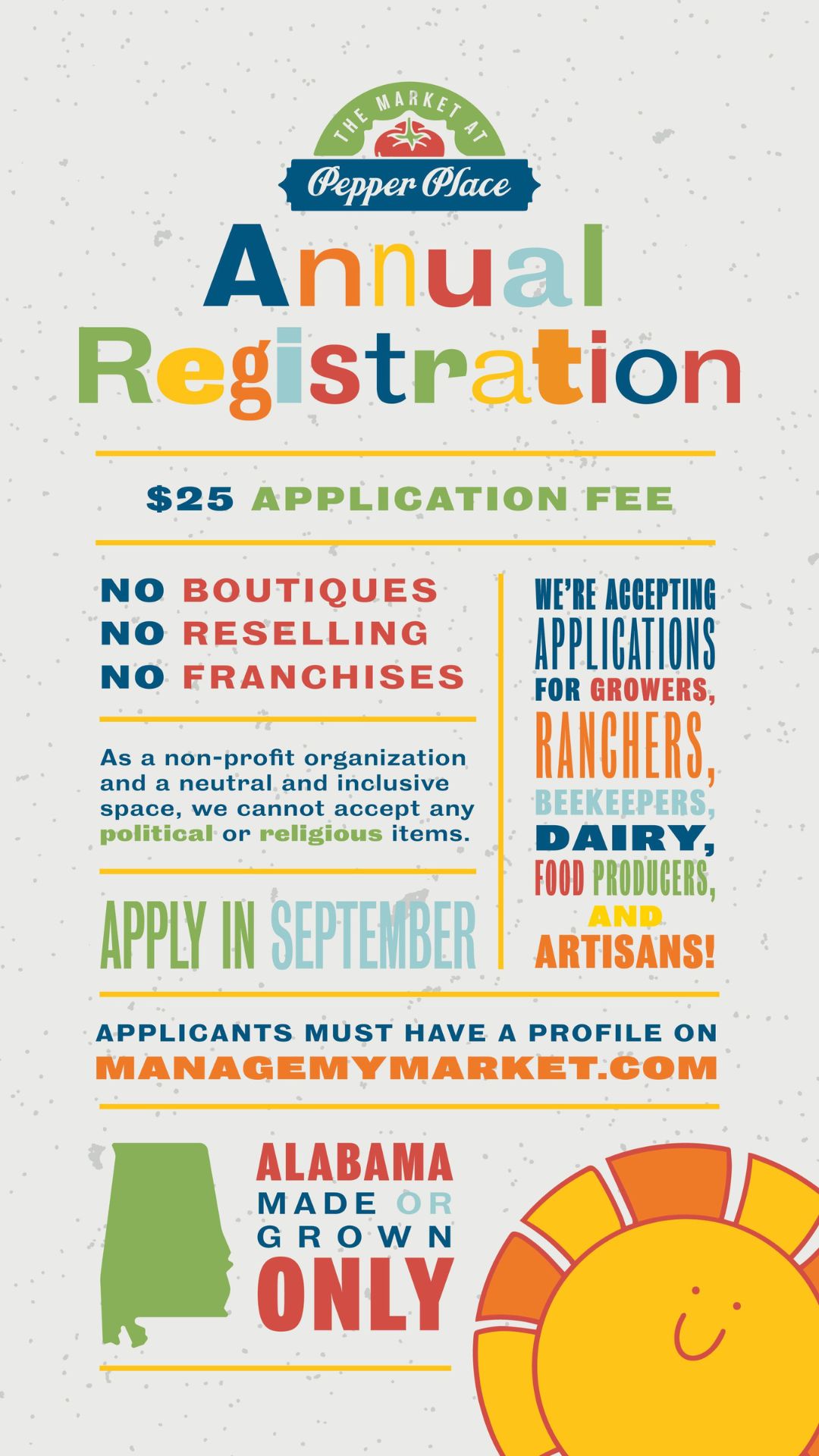 Thank you for your interest in the Market at Pepper Place!
We are a state certified farmers market and follow policies set by the Farmers Market Authority of Alabama. This means only Alabama grown, raised, and made items will be considered for approval.
No franchises, reselling, thrifting, or out of state businesses will be approved.
As a 501c3 nonprofit entity, we cannot allow items promoting or endorsing any political affiliations.
As a privately-owned farmers market with a goal of creating a neutral place for all, we will not allow items promoting or endorsing religions of any kind.
All applicants agree to follow the

2024 Vendor Handbook

.
Note:
No license or permit is needed to apply.

The proper license and/or permit is required to be obtained by the vendor if approved for the 2024 season.

When choosing dates for the 2024 season, give your best guess to your availability. If your application is accepted, not all dates selected will be approved.
2024 Market Season Application Steps

Step one: Create your Manage My Market profile. Be sure to include all items you wish to sell at the Market at Pepper Place in your profile. Photos of each product should be saved when entering each product in your profile. You will see a place to upload an image when saving each product.
Step two: Complete the application for the 2024 season at the Market at Pepper Place. Please note the nonrefundable application fee of $25.00 included in the application. To apply, you'll log in to your Manage My Market profile and search for a market. Use "Birmingham, Alabama" to find our market application!
Step three

:

All applicants will be juried by market staff and associates to determine applicant's status – approved or denied. The information you need for the jury process will be provided in your registration confirmation. After successfully registering, the page will refresh with your next steps and all details. This information will also be emailed to the email address you provide on your Manage My Market profile.
Step four

:

All applicants who apply during the month of September will receive their status no later than November 4, 2023.
After reading the Vendor Handbook, if you still have questions, please email us at info@pepperplacemarket.com
Please note: Market staff is available Tuesday – Friday from 8:00 am – 5:00 pm and on Saturday 7:00 am – 12:00 pm.
All emails received after business hours will be replied to the following business day.
If you have technical issues with your Manage My Market profile, email the Manage My Market team at info@managemymarket.com
Need help creating your Manage My Market profile or applying to the market? See the tutorial below.