Anyone in town who appreciates a decent fresh sourdough or whole grain bread is probably a fan of Corey Hinkel. Corey's breads and baguettes of Hinkel's Bakery can be found in many of the best restaurants, but the only place to see and sample the full array of what he's baking right now is at the Market at Pepper Place on a Saturday morning. How wonderful for us! When Corey unloads his trays and boxes full of crusty baked wonders, people start lining up at his tent. Usually during the course of a market morning, he'll have to replenish his offerings a couple of times. By the end of the Market, he's almost always sold out.
Corey is an artist, and expresses his creativity through his breads and viennoiserie (pastries). He experiments with different flours, fermentation times (how long the dough rises and rests), kneading, shaping, and ingredients for Danishes, galettes and croissants.  He has enough knowledge to write a book about bread, but just hasn't had time to focus on it. It's the excitement of baking that he loves, the chemistry of how it happens and the pleasure in getting it just right.
Corey Hinkel grew up in Lincoln, Nebraska. His grandmother worked in a old style bakery, and got him a job there when he was 15 years old. "It was just a job," he said, "but I ended up learning a lot. I did everything – washed dishes, hauled sacks of flour up down the stairs, and baked. They made really great breads and doughnuts. I learned how to do it all. My grandma was a gardener and a good cook, and she taught me a lot too."
Corey joined the Navy and lived in New London, CT for awhile. When he was discharged, he took a job working in a small bakery and quickly developed a following. Regular customers came looking for a slice of his apple pie every day. On days off, he travelled up to Montreal and fell in love with its fine bakeries and French restaurants. He dreamed of beautiful food and of one day opening his own small bakery or café.
Romance eventually brought Corey to Alabama. Fortunately he decided to stay and embrace his calling. He trained with a famous French baker and chef at Buckhead Bread Company in Atlanta, opened a small bakery in Anniston and taught baking at Culinard. He worked as a consultant for restaurants, helping them design kitchens suitable for fine baking. He partnered with Chef Chris Dupont on a bakery/restaurant, Mix, on 4th Avenue North. He launched other businesses, baked in different locations, but always came back to his craft, his vision, his creative palate and love of baking that he refused to compromise. It wasn't always profitable, but he was always proud of the results. His baking partner now, Mollie Mullinax, produces most of his pastries, while he focuses mostly on breads. "Mollie is really talented. She and I work well together. We start the day usually around 4am and never stop."
"Anybody can bake, but it's actually pretty hard to make great bread consistently," he said. "You have to start with the best ingredients you can find. That's what we do. And you have to work the dough and give it time to ferment. Some of our doughs ferment 16 hours." He continued, "With a croissant, you don't just want layers – anybody can create layers. For a great croissant, you want something that holds its structure but still flakes all over your shirt."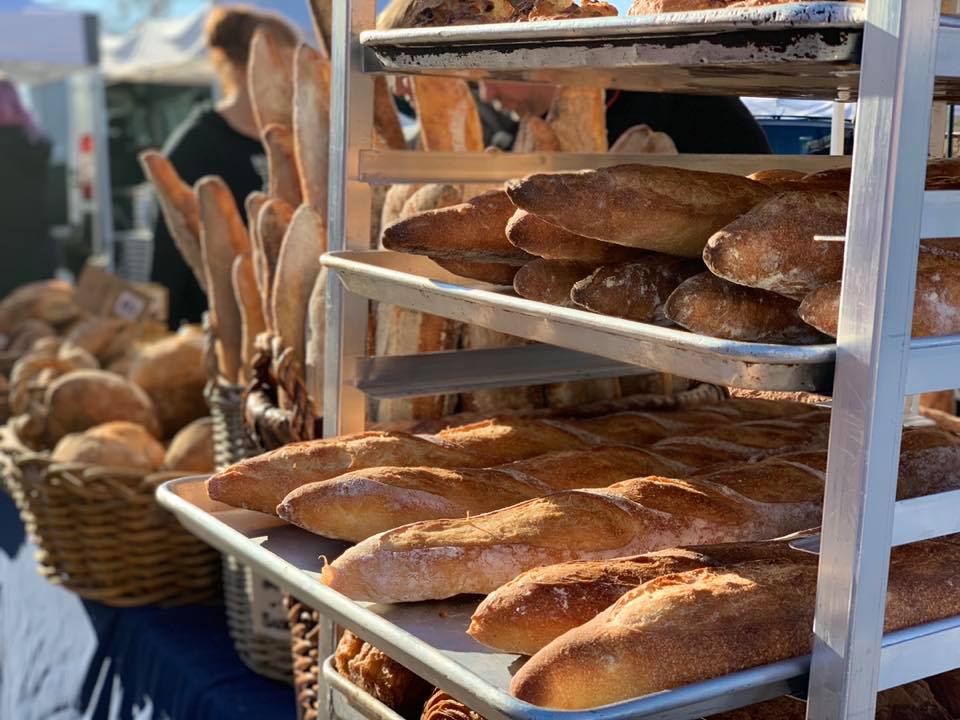 His favorite bread? "Our grain bread has 6 different grains, some sourdough, and a little molasses. It's good. It's an old world bread. Those are the ones I like the best. But they're heavy. People aren't ready for them around here." Most popular pastry? "Probably the strawberry Danish or the cinnamon roll. People love those. We use really good quality flour and butter. That makes a big difference."
He added, "I've been doing this for 27 years. I'm kind of a gearhead and I'm interested in electronics and old Mercedes too, but baking is what I love. You know, bread is a living thing. It's made with yeast and other fresh ingredients. People say, if you're happy, the dough will rise. I've been making some pretty good loaves lately, so I guess things are ok. Lately I've been thinking about opening up a little bake shop and filling it with antique Mercedes and car parts." For now, you can enjoy Corey's latest breads, baguettes and pastries, Saturday mornings, rain or shine, at the Market at Pepper Place.